4Cs Blog: Happy Employees = Happy Customers
---
Designing an Employee Friendly Workplace
Designing an employee friendly workplace
There is little doubt that
the long-term success and growth of any business
depends to a great extent on employee satisfaction and retention. Making your company an attractive place to work and creating a positive and progressive working environment is important to ensuring job satisfaction, developing talent and inspiring loyalty. Below are some essential tips to help ensure business success as well as employee satisfaction.
Read full post
---
How A Solid Succession Plan Is Critical To Retaining Top Talent
Only 54 percent of CEOs and directors are grooming a specific successor to take over the company when they exit, while 39 percent have no suitable internal candidates who could step in immediately. While most business leaders know the importance of continuity, many organizations still aren't ready for succession. But having a clear plan for your company's future isn't just good for continuity, but is also critical to keeping your employees committed and engaged.
Preparation Is Key
Employees come and go. That's just the nature of organizations, so why wait to prepare for the inevitable? Succession planning should be a continuous process so that your company isn't caught off-guard by organizational changes. It's vital to a company's success that there are measures set up to make sure that things keep running smoothly in the event of resignation or retirement of staff, as well as restructuring and expansion.
Read full post
---
How Smart Cities Around the World Impact Workplace Trends
As the world becomes increasingly dependent on technology for efficiency and success, a report by IDC shows an estimated two-thirds of global cities will be investing in smart city technology by up to $135 billion by 2021.

As cities around the world are set to transform into 'smart cities', John Williams, Head of Marketing at Instant Offices, looks into what smart workplace trends are emerging from these innovation hubs.

The National League of Cities (NLC) has analysed how technological advances in smart cities could potentially impact jobs and skills, showing which jobs that are set to grow between now and 2026 are most likely to be automated. The research found that management and supervisory roles are the most secure, being less than 30% automatable, while low-paying positions involving manual labour are the ones most at risk, being more than 70% automatable.
Top Smart Office Trends for 2019
Read full post
---
How to Use Benefits to Attract Top Millennial Talent
"Within the next two years, 50% of the U.S. workforce is expected to be made up of Millennials".
-Dynamic Signal

Trends show that by 2021, half of the talent pipeline in the United States will be composed of millennials. This massive influx of talent flooding the market has employers scrambling to the offensive. They are overhauling their talent management strategies by offering progressive and innovative workplaces to attract, attain and retain top millennial candidates moving forward into the future.
Benefits brokers can help companies gain a competitive advantage by attracting top millennial talent with enticing, premier benefits package offerings.
Unlike older generations who have traditionally aimed to find a high paying company and remain loyal for many years, millennials have adjusted their career goals and strategy. As pay is still important in the decision-making process, the traditional and voluntary benefits that employers offer will be just as or more scrutinized as they decide to take a position or not. Unlike past generations, they crave more than a cold check at the end of the pay period.
Read full post
---
How Remote Workers Are Helping to Save The Planet
Research collected by Instant Offices revealed US employees working from home prevent the emission of 3.6 million tons of commuting-related greenhouse gasses every year. That's equivalented to planting 91 million trees!
By allowing more employees to work from home or telecommute more often, businesses across the nation can rapidly become more energy efficient and reap the rewards that come with introducing flexible working in the workplace. With this in mind, Instant Offices provides a breakdown of why employers in the US should consider implementing the idea of flexible working seriously.
Compelling statistics by FlexJobs has shown remote working has become a more sustainable way of working that benefits both employer and employee and creates a huge positive impact on the environment. Here are some of the key stats that show why flexible working could be the solution to solving problems with work-life balance, employee retention, and productivity:
Read full post
---
Top Reasons You Have a Turnover Headache
High turnover is a symptom your employees are struggling. Exactly what they are struggling with may be apparent or it may be a complete mystery. Either way, in order to even begin to address turnover, you have to know what is causing employees to leave.

The top 7 reasons that are most commonly identified in our employee research are:

1. Employees have more work than they can manage. They are simply worked to the bone.

2. Some employees are treated better than others. When one employee is allowed to work from home one day a week and no one else is, resentment is inevitable.

3. Employees don't usually work just for the money, but they do care they are being paid fairly. If they aren't, they will leave if a better opportunity comes along.

4. Work culture is strongly correlated with employee engagement and happiness, and research has proven over and over that employees don't work well in toxic cultures.

5. A bad boss drives good people away. People today expect to have a great manager.
Read full post
---
Improve Career Opportunities to Increase Employee Engagement and Reduce Turnover.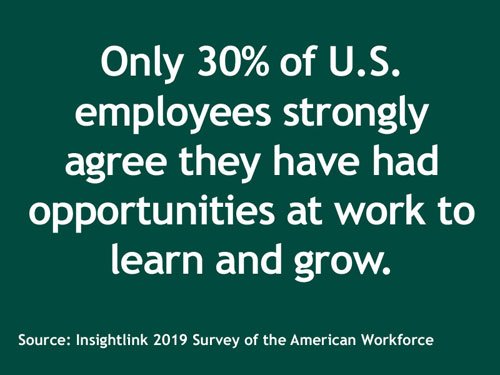 Each year we conduct our Survey of the American Workforce. It's what we use as the basis for our extensive normative database and how we benchmark scores in our 4Cs Employee Survey. A recent article posted by John Hall on LinkedIN highlights one of the key findings in the survey results having to do with employee loyalty and why employees really leave jobs.
It's a myth (and one that never seems to die) that employees leave their jobs primarly because of bad managers. Just try a Google search on "employees don't leave jobs, they leave managers" and you'll find dozens of articles and blog posts touting this tired old cliche. The problem is that the claim is simply not supported by the data. It's just a lazy way to explain away high turnover rates without actually trying to solve the problem. That's not to say that "some" people don't leave jobs because of bad management or horrible bosses. Everyone has heard stories about them and most of us have probably had at least one experience in our careers working for a monster. But "horrible boss" anecdotes are not reliable data and the truth is, while people leave jobs for many reasons, bad management ranks pretty low on the list.
Read full post
---
The Importance of Employee Surveys During Mergers and Acquisitions
A study by KPMG indicates that 83% of merger deals don't boost shareholder returns, essentially making them a failure. It's suggested that this is partly due to mismanagement of workplace cultures, something that can be identified and worked on early with insight provided by doing an employee survey. Happiness and engagement levels often decline during a merger or an acquisition as it's a significant change for any business and needs to be handled with care. Employee feedback can be extremely valuable, plus it immediately shows that you care about employees during this transitoryand vulnerable time.

How do mergers and acquisitions affect employees?

An acquisition or merger will usually result in employees needing to do business in a different way, which they can resist, particularly if they don't understand how they fit into the new business or office culture. Employees may lose confidence in the business, particularly when it comes to how secure their job is and what the future holds for the company. One survey of 10,000 U.S workers found that employees who lose confidence in a company following a merger may quit, but if new management teams can clearly communicate a clear vision for the future, they're less likely to leave. Employee surveys during a merger or acquisition can help to identify if these potential problems are apparent in your business, which helps you to resolve them and retain staff that are happy and productive.
Read full post
---
How Employee Surveys Can Predict Your Turnover Rate
Can An Employee Survey Predict Your Turnover?
With the right questions and the right analysis, absolutely yes. Insightlink's Loyalty Matrix reporting can show you.
Knowing how many of your employees are likely to quit in near future (and what is causing their unhapiness with the job) can be an invaluable tool in helping to reduce expensive employee turover.
Using our Loyalty Matrix analysis we can segment your employee population into four distinct groups.
Take a short demo survey here to learn how.
Read full post
---
How to Recognize Work Addiction in the Workplace
The growth of technology combined with the idea that we need to work harder to achieve more is a popular concept in the modern workplace. And, according to a study by Techtalk, 55% of US employees have admitted to checking work emails after 11pm. Research by Harvard Business Review also shows the average CEO works 62.5 hours a week - around 21.3 hours above the global baseline of 41.2 hours.
As technology makes it increasingly easy to push beyond the 9-5, Lucinda Pullinger, Global Head of HR at Instant Offices provides pointers on how US workers can recognize the difference between committed working habits and work addiction.
With smartphones, computers and apps at our fingertips, we're able to maintain a constant connection to our work. In theory, these tools should make our workdays shorter and more efficient, but constant distractions and the inability to disconnect can lead to longer work hours and less to show for it.
Read full post